The Anime Festival is an annual three-day convention in downtown Wichita featuring costume contests, video contests, anime viewing rooms, panels and hours of programming.
Celebrate Wichita's creative spirit at the state's premier boutique, open-air fine-art show. More than 80 artists from across Kansas and beyond showcase a wide array of art media – painting, photography, jewelry, sculpture and more during the two-day event.

Celebrate St. Patrick's Day with this parade of all things green and Irish through the historic Delano District. Make you're way to Douglas Avenue to see the floats, enjoy traditional food and see what Delano's local shops have to offer!
Grab a spoon and dig in! The Wichita Wagonmasters Downtown Chili Cookoff is one of the grandest street parties and fundraising events in Wichita featuring more than 70 teams vying for the best chili dish in town.
Raise a pint and celebrate! Wichita's Union Station is transformed into a Biergarted featuring live music, food, a wiener dog race and BEER at the ICT Bloktoberfest.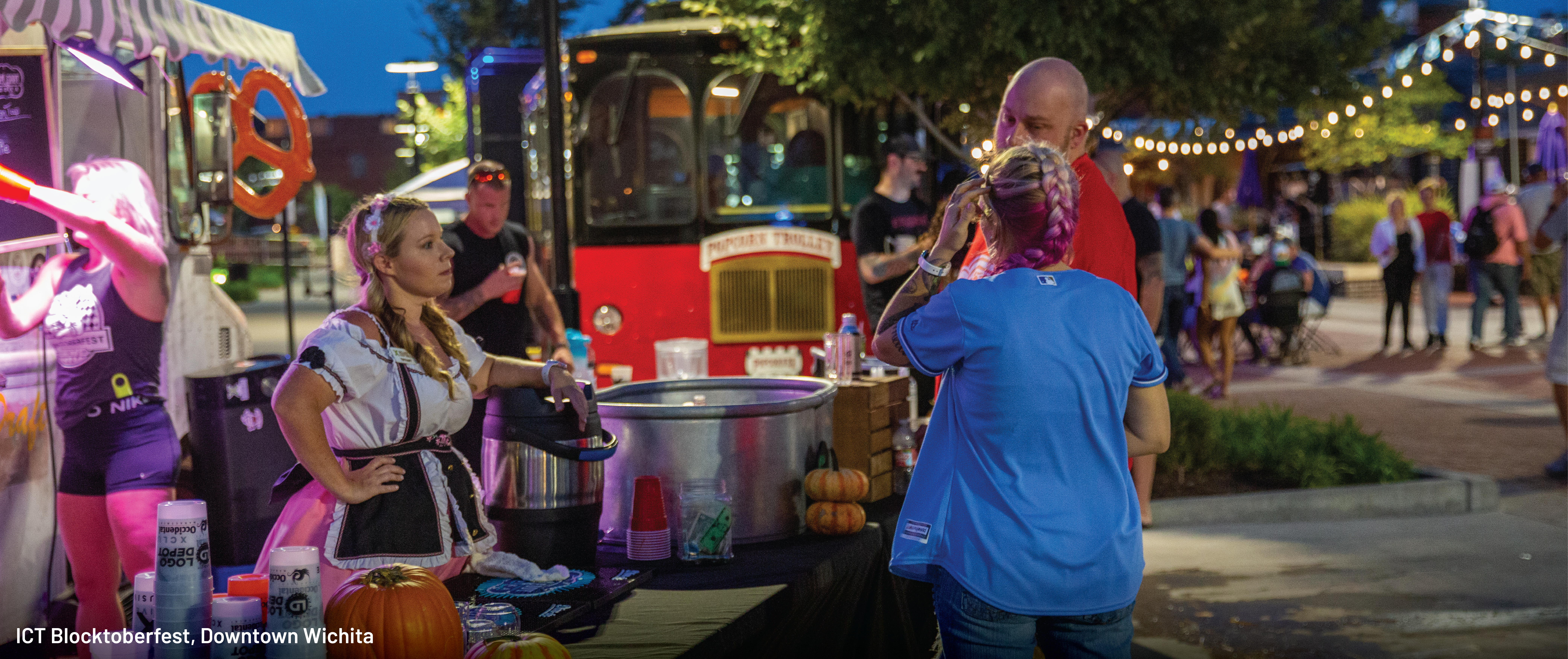 Illuminations is a dazzling holiday tradition sure to brighten those winter woes. Take in more than 2 million lights strung about more than 30-themed gardens at Wichita's Botanica. Holiday-themed treats, a visit with Santa and choreographed light shows make this a do-not-miss event.
November–December, 2023 *exact dates yet to be released
Experience Kansas' largest member-owned farmer's market every Saturday from April 1 – October 31, plus some winter dates. More than 100 local farmers and artisans make up the market offering everything from fresh fruit, vegetables, meat, eggs, baked goods to art, live entertainment and cooking demonstrations.
April–October: Saturdays, 7 a.m. to Noon
November–March: Select Saturdays, 8 a.m. to Noon
Kansas Sneaker Fest is Wichita's very own sneaker convention. Sneaker enthusiasts can buy, sell and trade sneakers, vintage clothing, streetwear and accessories while viewing a dynamic, live-art exhibit.
Latin Fest ICT is a unique, cultural festival celebrating diversity during Hispanic Heritage Month. Spectators can enjoy live performances, exhibitions, games and presentations while snacking on authentic Latino food.
From farm-fresh food to locally produced art and homemade candles and jams, get a taste of Wichita at the Old Town Farm & Art Market. The weekly event, established in 1991, boasts more than 75 vendors in the historic Old Town district.
Open every Saturday April through December 16
April–October: 8 a.m. to 1 p.m.
November–December: 10 a.m. to 2 p.m.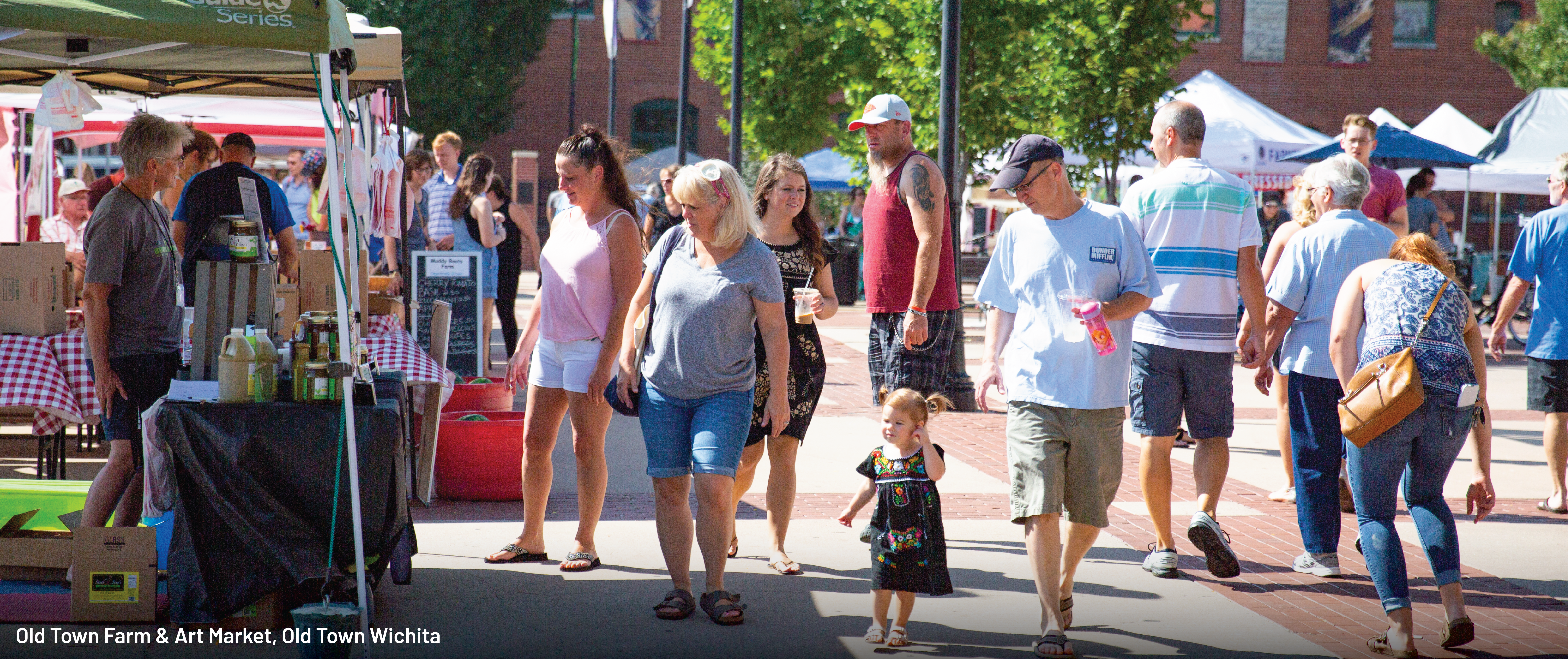 Open Streets ICT is a free community-building event bringing Wichitans of all ages and fitness levels together to promote healthy, active living and social engagement. Three separate Open Streets ICT events are held throughout the year highlighting the unique and vibrant communities of the WSU and Shocker neighborhoods, Nomar and Douglas Avenue.
Open Streets ICT: WSU and Shocker Neighborhood
TBD 2024
Open Streets ICT: Nomar
TBD 2024
Open Streets ICT: Douglas
TBD 2024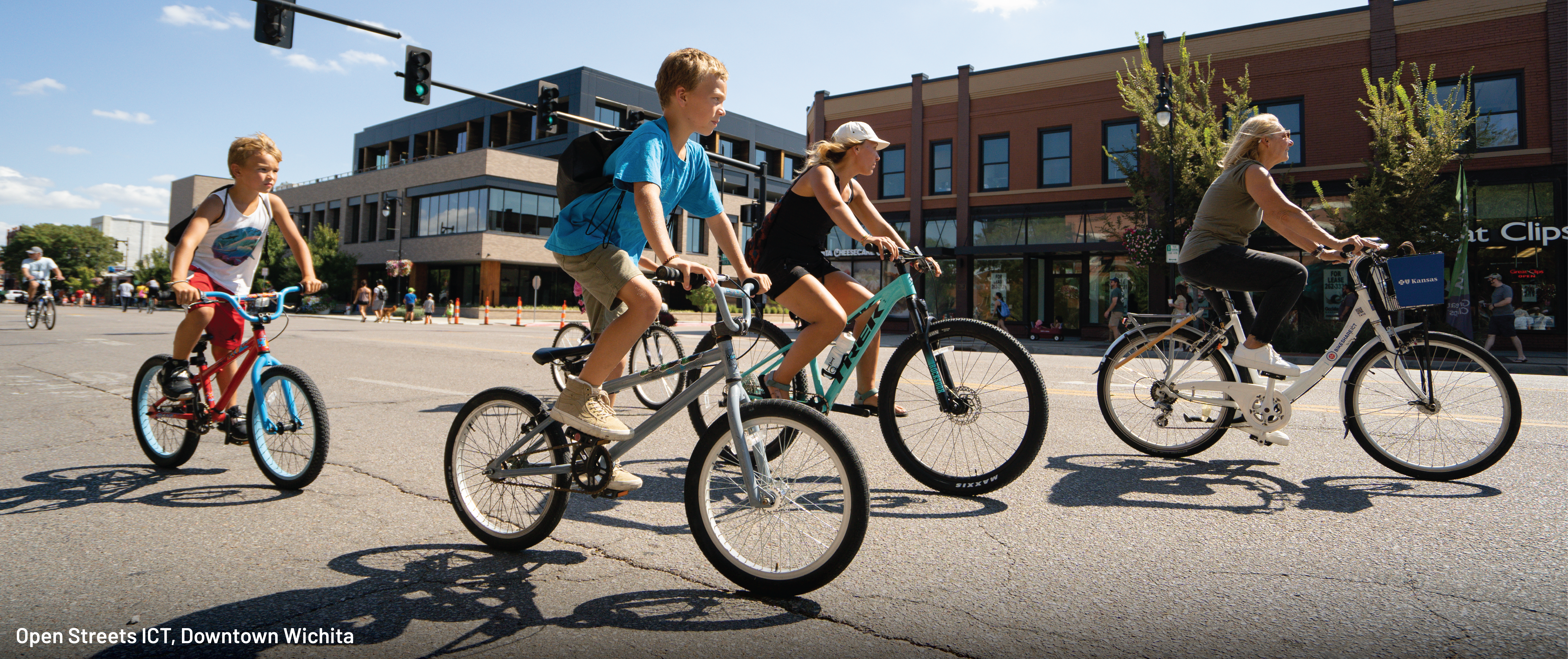 Wichita's biggest party of the year brings live music, fair food, a carnival, car show and more to the heart of downtown Wichita. Whether you're looking to catch a show or enjoy a ride on a paddleboat, kayak or canoe, the nine-day celebration offers something for everyone.
Shop & Grub is an outdoor monthly market at Exploration Place Festival Plaza featuring a unique variety of vendors selling vintage clothing, art, jewelry, accessories, home goods, wine, delicious food and more.
Market times, 11 a.m. to 4 p.m.:
April 23, 2023
May 21, 2023
September 17, 2023
October 15, 2023
November 19, 2023
Summer Night Markets, 5 to 10 p.m.:
June 23, 2023
July 21, 2023
August 18, 2023
The annual Tallgrass Film Festival is the biggest film festival in Kansas bringing together writers, directors, filmmakers and actors from around the globe. The richly diverse independent film festival is dedicated to entertaining, educating and enlightening audiences in America's heartland.
Bloom into spring at Botanica's Tulip Festival. The beautiful event features more than 70,000 tulips spread out over Botanica's 20 acres of gardens, a petting zoo, carousel rides, music and food trucks.
April 6, 13, and 20, 2024 - 10 a.m. to 2 p.m.
The Wichita Asian Festival celebrates the expression of Asian culture and arts while promoting cultural awareness among various Asian groups and different ethnicities within the Wichita community.
October 28, 2023, 5 p.m. to 10 p.m.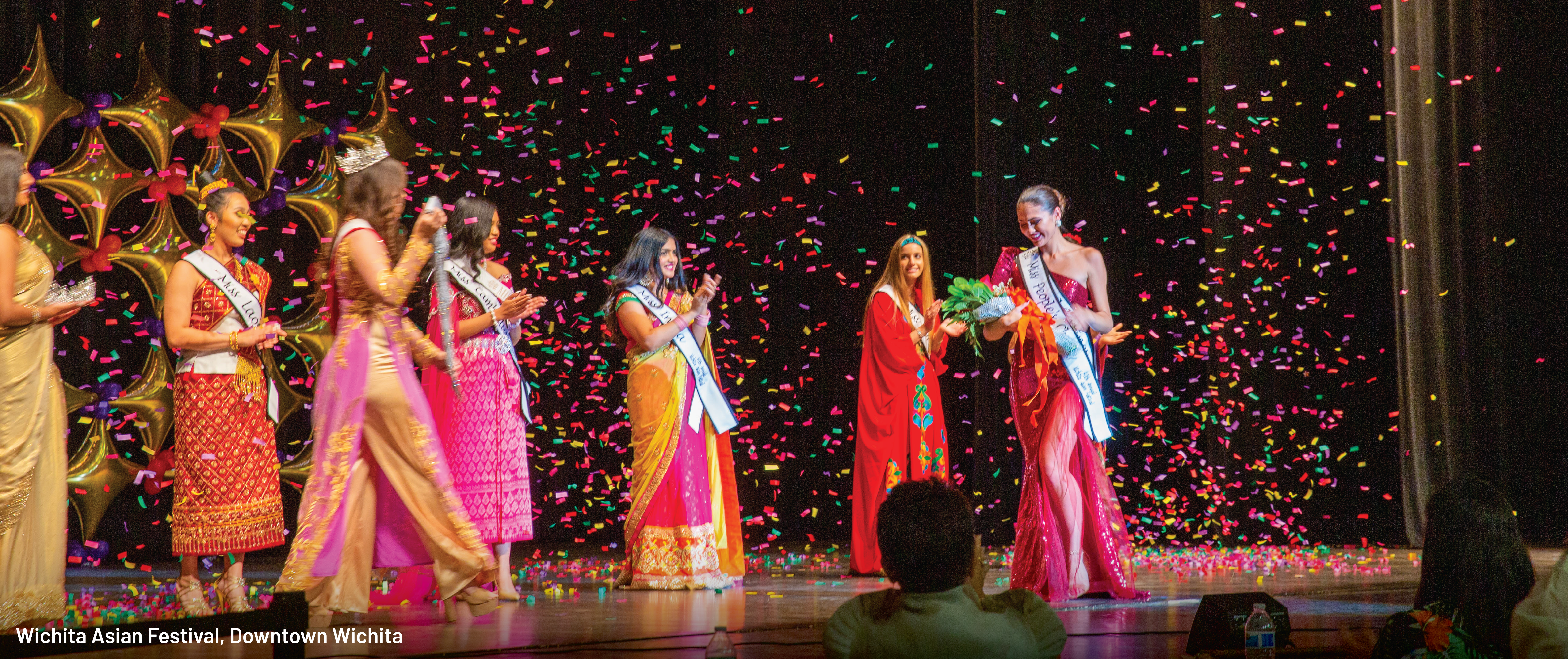 Happy treasure hunting! The Wichita Flea Market is a monthly event featuring about 200 vendors offering everything from antiques, jewelry, food, specialty art and more.
There's a market every month! For a full list of dates, times and places, visit their website.
Celebrate the history and legacy of jazz at the Wichita Jazz Festival. The festival, started in 1972, encourages the next generation of musicians through concerts, educational opportunities and interactions with world-class musicians.
There is something for everyone to enjoy at Wichita Pride Parade and Festival! Jam packed with entertainment and activities, the festival features live musical performances from local talent and national artists, plus a drag show, a chili cookoff, dancers and vendors, as well as a children's area with games and bounce houses.
The Parade & Festival is TBD June, 2024. Visit their website for all events, dates and places.
Did someone say a taco party? Wichita Taco Fest is fan favorite offering a large selection of locally crafted tacos, salsa, nachos and elote. The main dish is paired with a VIP tequila expo, a mix of DJ's and bands and a friendly jalapeno contest.